Easy to do.
Made for you.
Test wherever you are
The beauty of Modern Fertility is that you can test however you feel most comfortable. Whether you test at home or at a lab, you'll get the same, physician-reviewed reports.
Testing at home
When you test at home you'll do a simple finger prick.
In three steps
Receive your kit in the mail
Follow instructions and return
Get your physician-approved reports
1. Receive your kit in the mail
2. Follow the instructions and return
3. Get your physician-approved reports

Order your home test
Prefer to test at a lab?
Visit one of 2,000+ Quest Diagnostics locations across the US and get a traditional blood draw.
In three steps
Find a Quest near you
Get a standard blood draw
Get your physician-reviewed reports
1. Find a Quest near you
2. Get a standard blood draw
3. Get your physician-reviewed reports

Order your lab test
Fertility info at your fingertips
Once you take the test, we'll complete your unique fertility profile.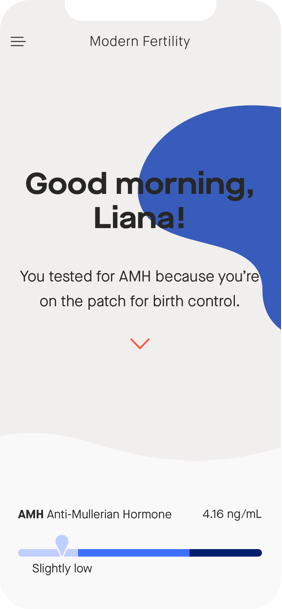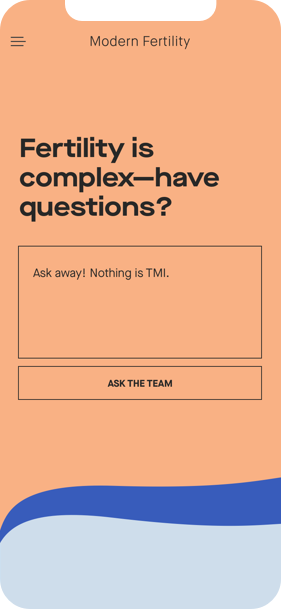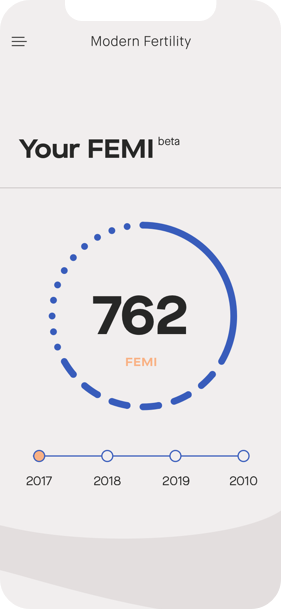 Personalized and reliable insights
Physician-reviewed reports that walk you through your hormone levels and what they mean for egg freezing or IVF plans, menopause onset, and more.
Want all the details? See the science
Word on the street
Honestly, my experience with Modern Fertility is similar to that of the best doctors I've had- honest, direct, educational, and easy for me to understand. I feel empowered, rather than confused or fearful of the unknown.
This brought me peace of mind and made me feel empowered to make the best decisions for myself and my family.
This has been HEAVEN SENT. Everyone was so kind and helpful for a topic that's so emotional, and can be weighty! I am so thankful for this product and service and looking back would have paid double for it. Almost tearing up as I write this now. Thank you so much!
I was able to replace a big question mark in my five year plan with some much needed data. I decided to plan for kids in the future rather than make a fear-based decision to have them now.
Not only did Modern Fertility give me the tools I need to improve my health, it gave me insight to my fertility and a base to go to my doctor with. I can't wait to take my next test to see how my fertility has changed. Plus, the customer service was incredible; they answered every question with care and speed.
Modern Fertility gave me the chance to take back the reins on my own fertility. It gave me a window into the numbers that make up my future and gave me peace of mind. Knowledge is power!
A
better way to check in

Why haven't you heard of this test at your OBGYN's office? Proactive fertility hormone tests are not covered by federal insurance. In some states, reactive "infertility" testing can be covered—but you have to prove that you've been trying to get pregnant for a year (yikes). Getting info to plan ahead? Not covered at all—and these same tests can run upwards of $1500 at the doctor.

Modern Fertility is the most affordable and accessible way to check in on your fertility today. (Plus you can use your HSA/FSA)

Clinic
$800—$1500
$159
Modern Fertility
For the good of womankind
Women who join the Modern Fertility community can choose to anonymously join clinical studies that support research in fertility and women's health.
Your participation will always be 100% up to you.
Your test is customized for you
See how we'll design your test based on your birth control.